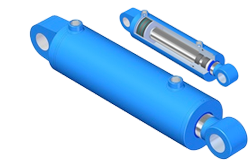 Compact S
Product Overview
Specifications
Smaller Bores:
• Threaded head design – hard wearing cast iron or steel with bearing rings, depending on the bore / shaft configuration†
• High tensile precision torqued cap screw piston fixing to up to 3.5" bore
• Blind threaded piston also available in 3.5" bore
3.5" and Larger Bores:
• Threaded steel head
• Blind threaded piston locked with nylon ring
• Replaceable heavy duty glass reinforced bearing rings
• 10", 12" and larger bore cylinders also available on request.
More info:
• Threaded head design for smaller bores
• Threaded head and piston design for 3.5" and larger bores.
• Common sizes ex-stock
• Rapidly manufactured to your dimensional and fitting requirements
• Compact closed centre dimensions
• Precision manufactured to extreme standards of dimensional accuracy
• Rated to 210 bar (3000 psi) continuous operating pressure (350 bar / 5000 psi intermittent)
• All seals rated to 400 bar (6000 psi)
• Absolutely concentric construction
• "BSP" ports (UN-O ring available)
• Hard chromed shaft
• Precision bore tube for accuracy, oil retention and extended life seal
• Five piece piston seal with acetal wear rings
• Alternative seal materials available
† Steel head with bearing rings.
Cylinder Options PDF
Product Catalogue